Greetings FORERUNNERS!
The Final Beta demo is now available for download! You can now visit the Steam Store page of NARAKA BLADEPOINT and click "Download NARAKA: BLADEPOINT Demo" to download the game!
Here we've prepared a Beta FAQ for you.
1. Final Beta Patch Notes
This is a huge update with many new features and optimizations.
>>Check out the Patch Notes here:
2. Beta Schedule
Q: When will the servers be up?
A: The NA/EU/AS/LATAM/SEA servers will be open at PDT 6/16 10:00.
Here's the detailed schedule: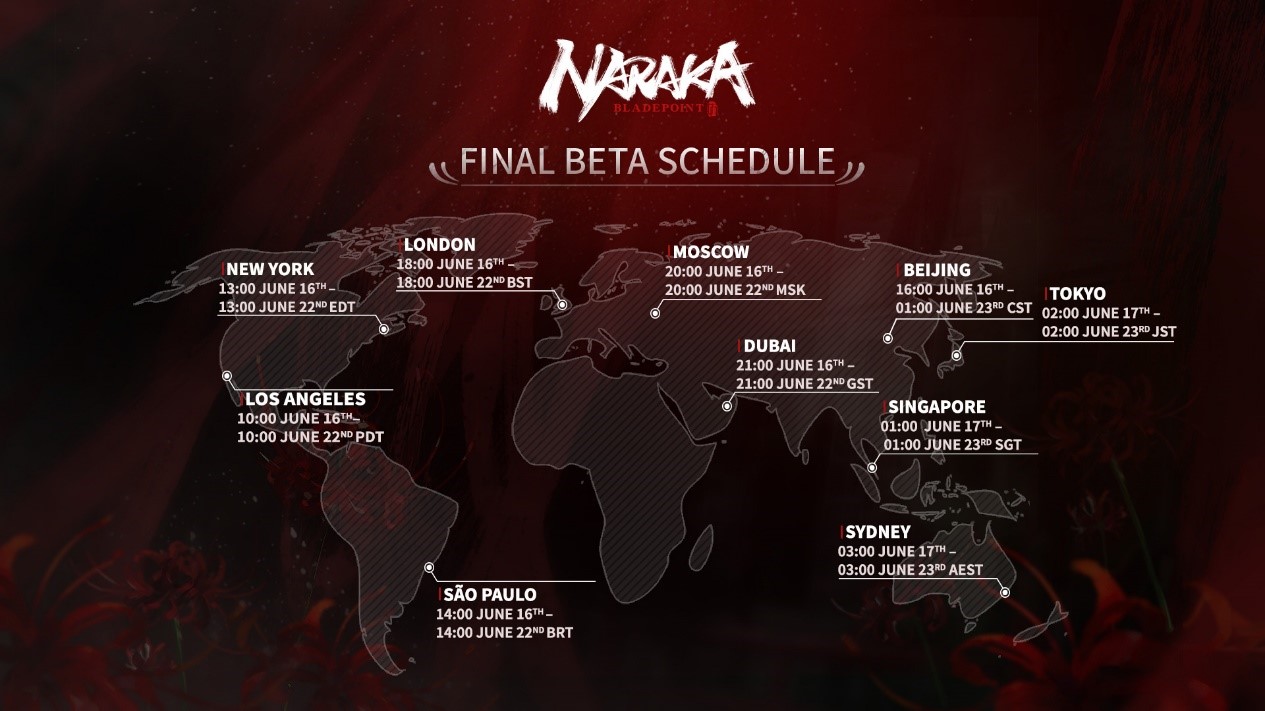 3. Beta Access & Download
Q: How can I get access to the Beta? Will the data be remained after this Beta?
A: Anyone who downloads the NARAKA: BLADEPOINT Demo on Steam will get into the beta. However, players who have successfully pre-ordered the game will receive a Final Beta Gift Code, which includes 30000 Golds and 50000 Taes. All in-game progress will be wiped out when the Final Beta ends.
Pre-order here: https://www.narakathegame.com/
Q: I have already pre-ordered the game, where's my gift code and how do I redeem them for in-game rewards?
A:
1. If you have pre-ordered at our official website, please log in to your account and click your name to check out your Final Beta Gift Codes. You may redeem them in-game by entering the codes once the Beta starts.
For the Trio Bundle, all three Gift Codes are under the account that purchased the bundle. Make sure to share both the Beta Gift Code and Product Code with your friends!
2. For players who have pre-ordered on STEAM, the reward of Final Beta Gift code can be directly claimed in-game during the Final Beta period. If you can't find the pop-up for the reward in-game, please quit the game and re-login.
Please note that the Gift Code is NOT a Product Code and cannot be used to activate the base game.
The rewards redeemed with a Gift Code are only valid during the Final Beta Period. All in-game progress will be wiped once the Beta is over.
4. Launching the Game
Q: Cannot launch the beta
A: For those who can't open the game client, please follow these instructions:
1. Restart your computer and launch Steam
From a game's library page, select Manage > Properties.
Select the Local files tab and click the "Verify integrity of game files" button.
Steam will verify the game's files - this process may take several minutes.
2. Make sure all NARAKA: BLADEPOINT files are given exceptions from any antivirus software on your PC.
3. You could also @BUG at the #submit-here, contact our community managers on our Discord server, or send an email to service@narakathegame.com
5. Other Issues
Q: Is there any difference between this beta and the official launch version? Can I claim my pre-order rewards in this beta?
A: We've completed most of the game development, but there are still some new features being developed and optimized. If you find any bugs, or if you have any suggestions for NARAKA: BLADEPOINT, please let us know in the official NARAKA: BLADEPOINT Discord server — we'd love to hear from you! You could also join our Reddit to connect with other players.
Pre-order rewards other than the Final Beta gift codes will not go live in this beta. After the game is officially launched, you will receive your pre-order bonus items in-game.
6. Beta Events
We've prepared a series of events for YOU to have fun with.
Participate in the Giveaways, Tournaments, Contests, Content Creator program to win special rewards!
Click the links below to learn details:
#NARAKASKYWALKER Screenshot Contest
#shake-the-tree Discord Giveaway
7. Pre-order
You can now pre-order the game on our official website, Steam and Epic Games Store.
Don't miss out on the special offer with up to $11.98 off at:
https://www.narakathegame.com/
Follow our Twitter https://twitter.com/NARAKATHEGAME to keep updated on NARAKA: BLADEPOINT news!