The Content Affiliate Program will see online creators produce social media content around NARAKA: BLADEPOINT, launched by 24 Entertainment partnered with gaming brand 4Gamers and Idealcat.
If you love NARAKA and our community, you are more than welcome to join us in producing content together!
You may apply to join the Content Affiliate Program to create content and win monthly cash and exclusive in-game rewards as a NARAKA partner!
Available Regions
NA, EU, SEA
Benefits for being an Affiliate Partner
Exclusive in-game rewards
Monthly Cash Reward (based on viewership score)
Twitch Drops for streamers
Official promotion chances
NARAKA WEEKEND Events (hold events sponsored by NARAKA Team)
In-game rewards for Affiliate Partner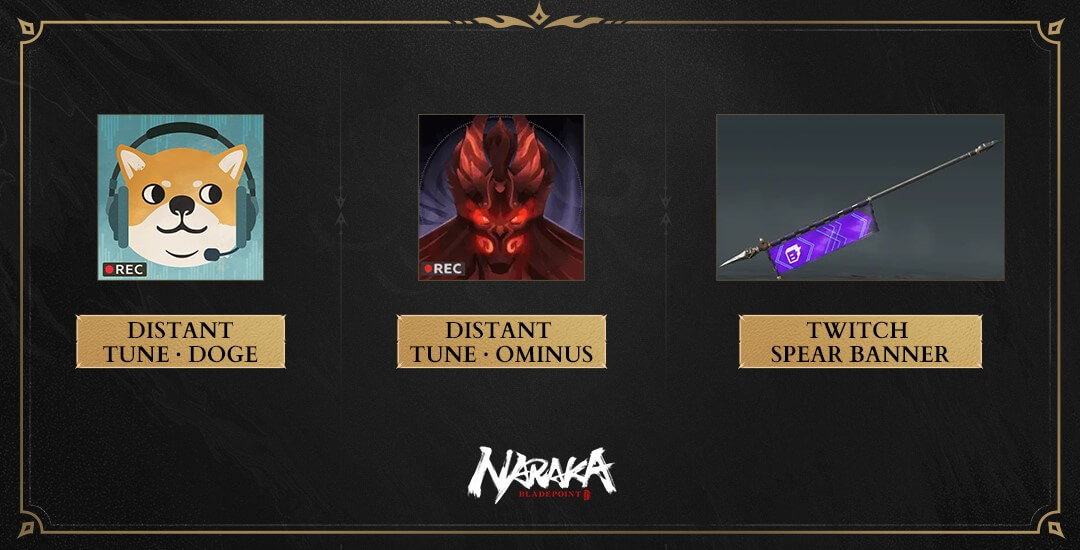 Twitch Spear Banner
The Twitch Spear Banner is a special gift for all partners in the program.
Show the world that you are a NARAKA streamer with this skin!

Distant Tune · Doge
We will be giving all partners in the Content Creator Affiliate Program an Exclusive Avatar: Distant Tune · Doge!
It shows your identity as a creator of the program as well as how important you are to the NARAKA community!
Distant Tune · Ominus
This astonishing exclusive avatar means that you are one of the best partners in the program with high engagement and amazing content!
You can earn this amazing avatar by having one of the best viewership for your content, or successfully holding 3 NARAKA WEEKEND events.
*NARAKA WEEKEND events are events held by partners every weekend, where we sponsor rewards and help with promotions.
Contact Information
If you are interested in joining us and producing content while enjoying your journey in NARAKA, please contact:
NA & SEA
Mail:
NARAKAbladepoint@4gamers.com.tw
Discord:
4Gamers_Jason#9536
4Gamers_Sandy#6590
EU
Mail:
NARAKAbladepointfr3@gmail.com (German and all languages)
NARAKAbladepointde3@gmail.com (French)
NARAKAbladepointes3@gmail.com (Spanish)
Discord:
BigCatCatMe#8855
DeltaxXLP#4750
We are looking forward to interacting with our fans more and growing together. Apply for the program and get your monthly prizes!
It is recommended to participate in the Forerunner Program first to have a greater chance to be invited to the Content Affiliate Program.