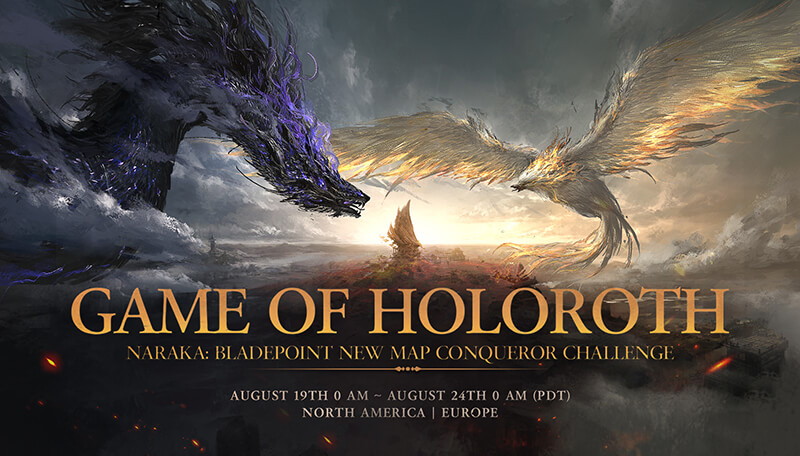 Activity Introduction
We invite streamers to participate in the GAME OF HOROLOTH event!
During the event, streamers will play NARAKA in the Herald's trial mode (Holoroth), unlock Achievements and earn Scores through fierce combat, and crown themself in four regions: Plumed Castle, Empyreal Village, Mehtaab, and City of Tang. When he/she earns the highest cumulative scores, he/she will become the KING of HOROLOTH!
Launch Date
August 19 0 AM — August 24 0 AM (PDT)
August 19 9 AM — August 24 9 AM (CEST)
Rules
- Mode: The Herald's Trial (Solo/Duo/Trios), Trios recommended
- Map: Holoroth
- Attempts: Only first 10 Matches in the event time will be counted.
- Tiebreaker: Kills, and then Damage Dealt
Achievements
Streamers can only unlock these Regional Achievements in the corresponding areas, and once he/she unlocks a Regional Achievement (eg. Aquila Guard), all the scores he/she earns by unlocking Normal Achievements in that match will be assigned to the particular region as well (eg. Plumed Castle).
Each region has its own scoreboard, and the streamer with the best score will become the King of that Region. And whoever tops all four regional scoreboards will become the King of Holoroth.
- If the streamer can't unlock any Regional Achievement, the scores she/he earns with Normal Achievement will be invalid as well.
- If the streamer unlock more than one Regional Achievement in One match, all the scores she/he earns will be assigned to all the Scoreboards of the Regions where she/he unlocks the Regional Achievements. For example, if she/he unlocks Aquila Guard (for Plumed Castle), Moon Blade (for Mehtabb), Aggressor, and Hunter in one match, she/he will get 5+5+1+1=12 points in the scoreboards of both Plumed Castle and Mehtabb.
Regional Achievements and Normal Achievements
Achievement

Requirement

Score

Regional Achievements

Aquila Guard

Defeat 5 enemies in Plumed Castle

5

Moon Blade

Defeat 5 enemies in Mehtaab

5

Lord of Nature

Defeat 5 enemies in Empyreal Village

5

Chief Guard

Defeat 5 enemies in the City of Tang.

5
Achievement

Requirement

Score






Normal Achievements

(Can be unlocked in the whole map)

Hunter

Defeat 5 enemies

1

Aggressor

Deal 12,500 damage

1

Benevolent

Rescue teammates 2 times

1

Healer

Heal 10,000 health

1

Airborne Advance

Travel 400m using the Grappling Hook

1

Kill Leader

Became the Kill Leader (get the most kills) in a game.

1

Guardian

Take 10,000 damage

1

Weapons Master

Perform 3 Counters

1

Perfect Aim

Land 5 headshots

1

Big Spender

Spend 20,000 Dark Tide Coins

1

Gold Digger

Search 20 Troves

1

Koi

Only the truly strong can enter the top5 by relying upon their vital energies alone.

1

Lucky Star

The Herald's Trial: they with the strongest vital energies in this world!

1

Marathon Runner

Travel 7,500m

1

First Blood

Get the first kill

1

Wrath of the Gods

Defeat an enemy with a Moonbane Charm

1

Sixth Sense

Defeat an enemy from over 75m away

1

Brawler

Defeat an enemy with your bare fists

1

Treasure Hunter

Claim items from 6 different Morus'Blessing

1

Super Weaponry

Defeat an enemy with a Ballista

1

Mighty Mortal

Equip 6 Gold Souljades at once

1

Lurker

Spend a total of 150 sec hiding in bushes

1

Supporter

Pray to a statue in a Stash

1

Fickle Fortune

Effect caused by someone praying to the Statue in a Stash.

1
The real-time ranking of streamers will be displayed in the event website:
https://www.narakathegame.com/2022/holoroth/
Rewards
1. Highest regional score earners
Plumed Castle: Exclusive Personal Banner in Plumed Castle
Mehtaab:Exclusive Personal Banner in Empyreal Village
Empyreal Village: Exclusive Personal Banner in Empyreal Village
City of Tang: Exclusive Personal Banner in City of Tang
2. The highest cumulative scores earner (in 10 rounds): Exclusive personal flag of Holoroth
*All flags will be displayed on the panoramic map on the event website and the avatar and ID of the streamer will be visible on the flags.
Participating Streamer
| | | | | | |
| --- | --- | --- | --- | --- | --- |
| Baso | Dropped | Mystk | Skite | faide | shivfps |
| BerbatowTV | Gotaga | NiceWigg | Skyrroz | hiswattson | sweetdreams |
| ChowH1 | Jbzzed | Oraxe | Timit | im_dontai | tiffajessi |
| Cyqop | Kayzahr | Repaz | Trilluxe | maximilian_dood | wardell |
| Dhalucard | Maytaki | Rumathra | Twiks | mickalow | xHankyy |
| Divi | Milschbaum | Schagges | Vlesk | nikolarn | |
*Alphabetical order
*The list is subject to change.