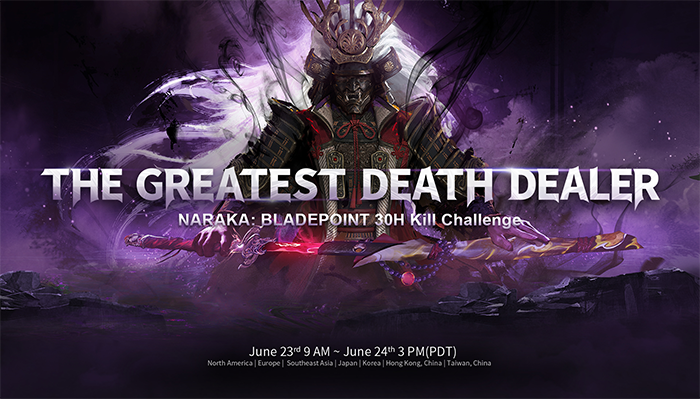 Activity Introduction
We're inviting streamers all over the world to participate in NARAKA's"Kill Challenge"event.
During the event we'll officially count each streamer's kill number, rank them based on their total kills, and give rewards based on these rankings. Check https://www.narakathegame.com/killchallenge/ for current kill count, rankings, reward milestone progress and more!
Launch Date:
June 23 9 AM — June 24 3 PM (PDT)
June 23 12PM — June 24 6 PM (EST)
June 23 6 PM — June 24 11PM (CEST)
Following are more details of the event:
Twitch Time Drops
The audience gets a special avatar after watching 30 minutes in the live room of any streamers participating in the event. Make sure to link your NARAKA account to your Twitch!
Challenge
Kill Challenge:
Common goal: Once the total kills of all streamers participating in this event reach a certain milestone, all NARAKA players will receive a reward; there will be 3 milestones.

Personal goal: The top 5 streamers with the top 5 most kills will receive prizes, which will be distributed to their fans by streamers, via Twitter sweepstakes.
Face Customization Challenge:
Also, streamers by showing the fans the customized faces of their characters. All audiences can vote for the best face customization on the NARAKA official twitter.
Challenge Rewards

The Best Killer and Best Face rewards will be distributed to the followers of the winning streamers. Don't forget to follow the streamers on Twitter and retweet our event tweet so you can get a chance!
1. Best Killer:
1st: 10 steam keys + $500 Amazon Card
2nd: 8 steam keys + $300 Amazon Card
3rd: 6 steam keys + $100 Amazon Card
4th: 5 steam keys
5th: 3 steam keys
*All steam keys are NARAKA standard edition
2. Best Face:
5 steam keys + $100 Amazon Card
3. Whole Server:
The kills from all streamers will add up to unlock the whole server rewards:
1st Milestone: "Become darkness"avatar-600 kills
2nd Milestone: Scorekeeper Card-800 kills
3rd Milestone: Immortal TreasureX2、10x XP Bonus-1000 kills
*Rewards will be sent by in-game mail
Participating Streamer
| | | | | |
| --- | --- | --- | --- | --- |
| 8cho | Doktrofroid | Maximilian_DOOD | richwcampbell | TSM_Imperialhal |
| acie | Edwin_live | Mina Young | Samson | WankilStudio |
| Anianiania | Excellenterah | MoDra | Shlorox | ZOFIRST |
| AnthonyZ | HugoDelire | MrSetoKami | Sykkuno | 노돌리 |
| aXoZer | HusKerrs | Myrtle Sarrosa | Symfuhny | 다주 |
| Aydan | Hype | MysTKv | TeePee | 삼식 |
| Daku | Im_Dontai | Orchidia92 | THE PED | しろせんせー |
| Dhalucard | JoJoThaMoFo | Ray__c | Thuỷ Tiên | なけそゆ |
| DisguisedToast | Kimouka | Reborn_Live | Tinkerleo | 小雲寶寶 |
| Doigby | LOCKLEAR | Rendy Rangers | Treygo | 達哥 |
*Alphabetical order
*Final list might be subject to change based on the actual situation