We're welcoming all gamers to come join the battle in Naraka! We've prepared a wealth of rewards and activities that we can't wait to share with you all!
Event I: Join in on the Rank Rush to receive a NARAKA: BLADEPOINT CD Key!
Event Ends:
November 24th 2020 at 01:00
Reward Distribution:
Rewards will be distributed after 7 working days following the end of the beta.
Distribution Channels:
Rewards will be sent via email (your email inbox, not the in-game Mail).
Event Guidelines:
Players joining in the beta will partake in a 'The Chosen' Solo/Trios competition for points that will place you on the leaderboards.
There will be 4 leaderboards in total: the Solo Rank, Trio Rank, Solo Kills and Trio Kills.
If you make it into the top 100 of any leaderboard and fight to stay there until the event ends, you will receive the corresponding rewards.
Rewards are split into 5 tiers. Each player may only receive one reward from each tier.
Rewards:
1、Participation Prize: Every player who takes part in the beta will receive an exclusive Beta Avatar x1.
2、Common Prize: Given to all players ranked 51-100 on a leaderboard. Contains 1,000 Gold, Custom Avatar x1, Game Key x1.
3、Rare Prize: Given to all players ranked 11-50 on a leaderboard. Contains 2,000 Gold, Custom Avatar x1, Game Key x1.
4、Epic Prize: Given to all players ranked 2-10 on a leaderboard. Contains 4,000 Gold, Custom Avatar x1, Game Key x1.
5、Legendary Prize: Given to players ranked 1st on a leaderboard. Contains 10,000 Gold, Custom Avatar x1, Game Key x1.
Note:
Please make sure you've clicked 'Claim Beta Rewards' at the top-left of the screen, and provided your email address. This is how you'll be sent your virtual rewards: you won't receive your rewards unless you provide your email.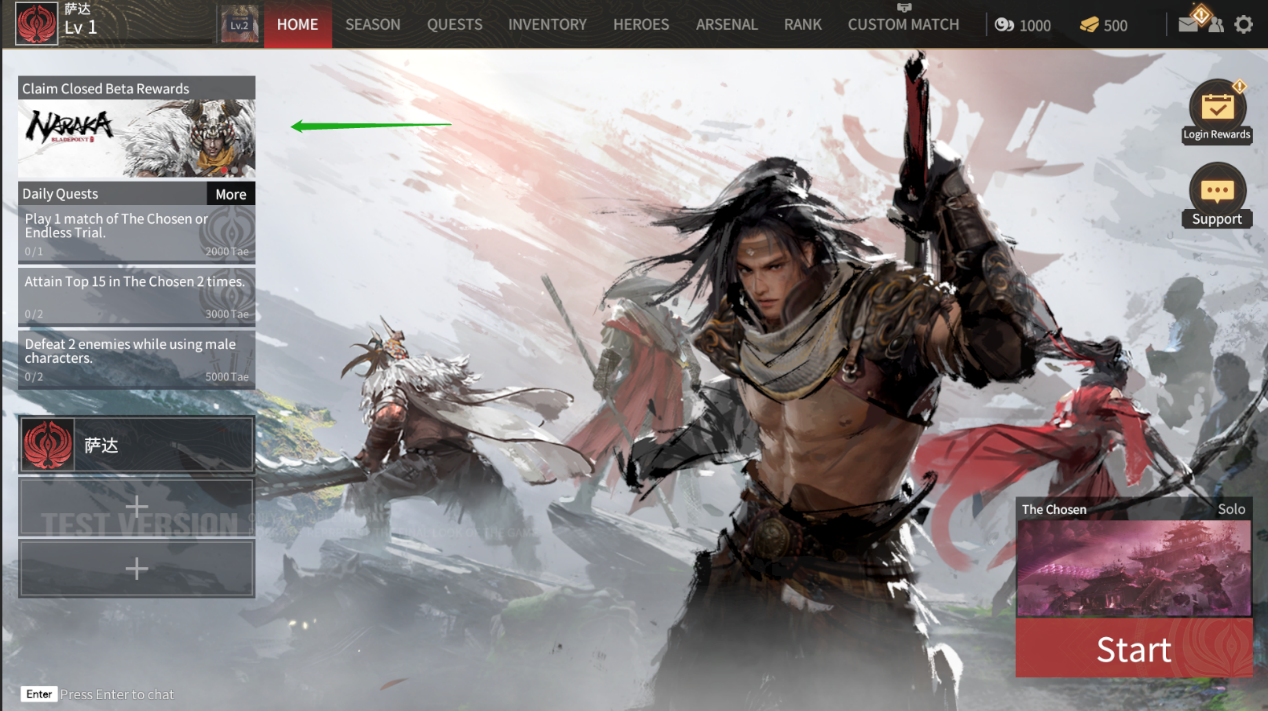 These virtual rewards can be claimed once the game is released. CD keys will be distributed to players. Remember to activate the game when it's made available!
Naraka CD keys will be sent out once the game enters presales. If you're among the lucky winners, please wait patiently!
Event II: Fill in the internal survey for a chance to win a PS5!
Event Time:
November 17th - November 23rd 2020
Event Guidelines:
All players of Level 5 or above are eligible to take the survey and gain a chance to win the prize.
On the day of the prize-drawing we will select at random a player who filled in the survey, and give them their very own PS5!
Prize Draw:
A random Player ID will be selected from all those who took part in the survey.
Time & Place:
The draw will take place on November 26th 2020 and be announced on the official channels as well as our Discord.
Distribution:
Once the prize draw is over, we will add the winner on Steam to request their address, and deliver the prize to their doorstep by February of 2021.
Event III: Take part in our 4-fun Blossom Tournament to win all kinds of customized merch rewards!
Event Time:
November 20th & November 22rd 2020 at 20:00.
Event Guidelines:
1、We will create a lobby and set up a custom tournament for players. The lobby name and password will be posted on our social media and Discord half an hour before game start. As there's limited space, players will be admitted on a first-come, first-served basis.
2、Players in the lobby shall partake in The Chosen Solo and Trios, as well as Endless Trial matches (we will decide the specific number of rounds to be held). Each player who emerges the champion will receive a set of official merchandise! (You can only receive each reward once.)
Claiming Rewards:
Winners should join our official Discord and PM any admin with screenshots of their victory, and the time it took place. We will get in touch, and dispatch your rewards by Christmas.
Event IV: Join our Discord and report bugs, share your awesome movies, and receive rewards!
All players, streamers and video creators are welcome to join our official Discord.https://discord.gg/narakabladepoint
Give feedback on bugs, provide suggestions, and share your in-game highlights (streamers and video content creators only).
We'll choose the best clips and get in contact with you. If your clip is successfully chosen for our official content, we'll be sending you out some awesome merch!
Join in the conversation on the official Weibo and QQ groups, and find out more info:
Official Weibo: https://weibo.com/narakathegame
Official QQ Group: 201279939
24 Entertainment reserve the right for final interpretation of all beta test events. If you have any questions, please email us at service@narakathegame.com.