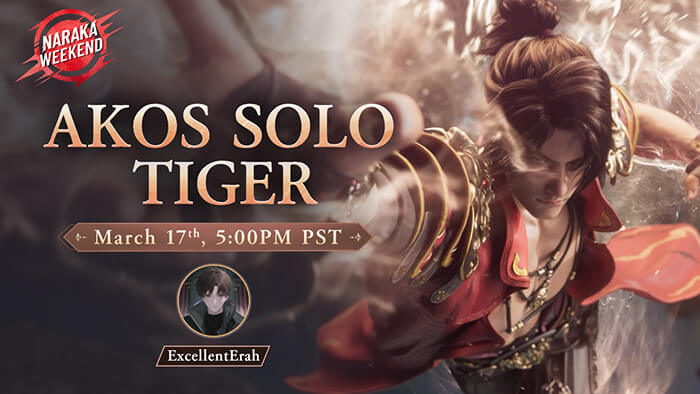 Welcome to the Akos Solo tiger event!
This is an Akos only solos event!
A total of 3 matches will be played. All other heroes besides Akos are banned for this event. Top 3 players will get cash prizes. This is to have fun with the new hero, and put to the test how much you can master a new hero in a short period of time!
Date & Time
Lobby opens on March.17th, 5:00 PM. Match Starts 5:20 PM (PST)
Host
Platform
PC & XBOX
Rewards
1st: $150
2nd: $100
3rd: $50
[This event is for NA Server only.]
Registration
*PARTICIPANTS NEED TO JOIN DISCORD TO BE REGISTERED AS A MEMBER.
1. Sign up through Google Form
2. First come first serve (may or may not prioritize previous scrim and tournament winners).
3. Discord link: https://discord.gg/XAJP5TYwAE
General Rules
NO teaming or cheating. This will be taken very seriously and amount to immediate disqualification
Need to join Discord to be registered as a member in tournament
Please listen and follow the broadcaster for instructions
NO toxicity to other players
Participants must join all 3 matches
Event Details
Game mode: Heralds trial - solos
Map: The Morus Isle
Heroes: Akos only
Weapons: Any
Matches: 3
60 players max
Scores will be calculated by a Scoring System, and players with the top 3 will earn rewards.
Scoring System:
Base Points + (Kills*Kill Multiplier) = Player Score
Each kills = 2 points
| | |
| --- | --- |
| Placement | Points |
| 1 | 15 |
| 2 | 13 |
| 3 | 12 |
| 4 | 11 |
| 5 | 10 |
| 6 | 8 |
| 7 | 7 |
| 8 | 6 |
| 9 | 5 |
| 10-15 | 4 |
| 16-20 | 3 |
| 21-25 | 2 |
| 26-30 | 1 |
| 31-40 | 0 |
| 41-50 | 0 |
| 51-60 | 0 |
** Rules and rewards may be adjusted due to rescheduling or cancellation of events **