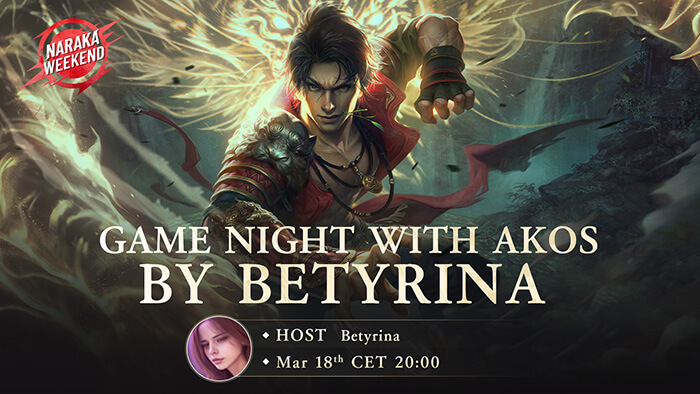 As we can see, the new hero, Akos Hu, came out this week. Let's start a great journey with Akos this weekend!
Date & Time
Mar 18th CET 20:00
Host
Rewards
8 winners with 50 EURO reward
[This event is for EU Server only.]
How to participate
During the stream we will have a raffle where everyone can participate. But raffle is not guaranteeing the claim of the reward. Is a first step to do.
Follow the streamer and type on chat !event to enter the giveaway.
Stick in to the stream, enjoy the show with a gameplay with Akos Hu and be patient when the host will announce the winners!
Players should be present on official Naraka discord and have enabled private messages, so the host will be able to write to them about the reward and who they should contact.
Event is for EU Players ONLY!
The host is accepting EU methods of payment or Paypal.
Event details
After selecting a winner You have to be on the chat because the Host will ask you a simple question related to the game (but no worries the questions will be simple and easily found on the internet as well. ). After the correct answer, the host will ping you on Discord for more information to claim the reward so will be able to collect essential information for the reward for the Naraka Team.
Language of the stream is mostly in Turkish BUT if you ask questions in English, I can answer in English.
For any questions or doubts you can reach host on discord Betyrina#1857 or jump on streams on https://www.twitch.tv/betyrina
** Rules and rewards may be adjusted due to rescheduling or cancellation of events **