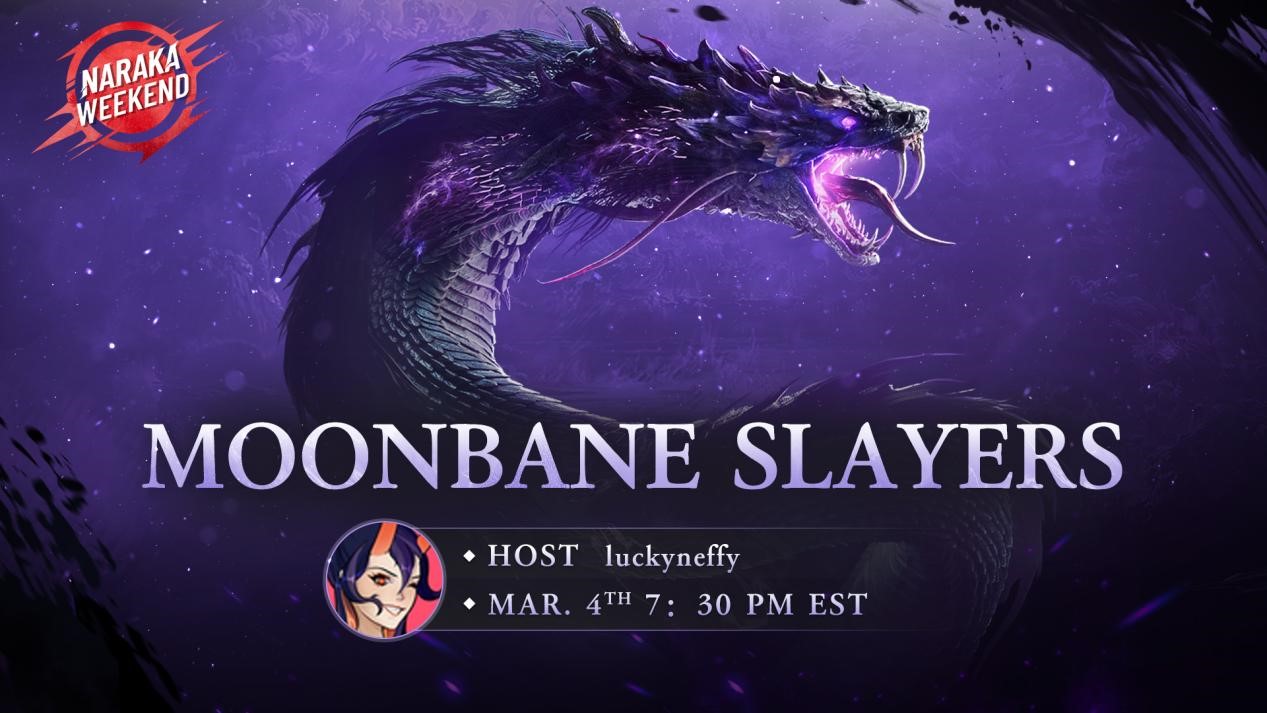 Welcome to the Moonbane Slayers tournament!
The semi competitive, open to the whole community will be held for the NA COMMUNITY.
The goal for the series of weekend events is to allow masses in the NA community to have fun while also earning in-game prizes.
This tournament is meant for everyone, starting from lower tier players to XBOX players and PC players, to the highest tier, the points system we will be implementing will allow everyone a fair chance to win weekly! The Tournament The weekly tournament will be kept on mostly (except exceptions) Saturday, 8PM EST to allow EVERYONE to play.
The tournament mode will be DUOS. The semi-competitive tournament is designed for ALL PLATFORMS in the NA SERVER, with the points system we have designed it gives everyone a fair opportunity to win!
Points system is explained below.
Date & Time
Lobby opens at Mar. 4th 7:30 PM EST, Match starts at 8:00 PM EST
Host
Platform
PC & XBOX
Rewards
First Place - $100
Second Place - $50
Third Place - $50
[This event is for NA Server only.]
Registration
Sign Up by joining the official Naraka Discord.
The tournament registration will be under Community tournaments in the #ms-info channel and completely automated through the Discord bot within, and the tournament information will be posted on Discord.
Sign Up The tournament registration will be completely automated through @iBot#8639, the tournament information will be posted on Official Discord.
For Teams mode the team leader signs up the team by supplying In-Game name, In-Game ID and Team Name, the leader will then be provided with a code that can be shared with team mates for them to join.
The bot only allows the maximum number of users to register, in case the limit is exceeded an informative message is sent to the player trying to sign up
Check-in opens and is handled automatically through the bot, at this point the incomplete teams will be removed.
15 mins before the tournament, the check in automatically closes and the host supplies the bot with room password and name which is delivered to all team leaders privately.
Event Details
Name changes All registrations are done using In game name, therefore changing your name once you signed up is NOT allowed.
Teaming Teaming will not be tolerated, doing so will get you banned from THIS and ALL FUTURE tournaments.
Server Lock These tournaments/scrims are strictly meant for the NA SERVER as of now, please do not try to join if you're from a different server. If you have a different server tag in your name but you live and play in |NA you will be asked a series of questions for verification.
Emoting As per official tournament rules you cannot emote, so don't do that here either. Streaming Streaming your games is encouraged and welcomed however keep in mind you MUST have at least 3 mins of delay in the stream
Platform All platforms are welcomed and encouraged to join! we'll be giving everyone a fair chance to win
Game Mode: Immortal War, Duos
Matches: 6
Max players: 30 teams, 60 players
Scoring System:
1st placement: 100 points
2nd placement: 80 points
3rd placement: 60 points
4th-10th placement: 30 points
Each kill: 15 points
At the end of 6 matches, the top 3 players/team with the most points will be announced as winners.
** Rules and rewards may be adjusted due to rescheduling or cancellation of events **